---
Not only will you help change someone's earthly life – you'll impact their eternal life. By being involved in missions, you can take part in God's plan to reach the nations.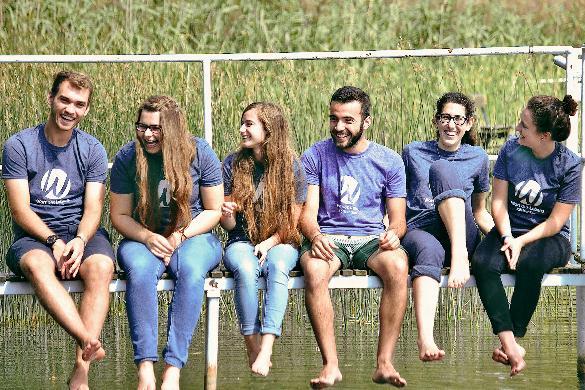 Germany Camp Counselor
Launch ShortTerm Missionary trip in:
Dates: 07/29/2023 - 08/20/2023
Cost: $0.00
Ministry Description
Summary
At our English Camps you will have the opportunity to be a counselor (~5 campers per counselor). Accompany and lead "your" campers through the day: cheer for them during the games, spend free time with them, guide them through their Quiet Time, encourage them, share from your life – show them what it means to trust and follow Christ.
Some of our campers already follow Christ; others have no idea who Christ is.
Strategy
We hold English Camps because it is a great way to teach teenagers English (in Germany, students have to take English in school and camps give them an excellent chance to practice). Yet, more importantly, it provides us with the opportunity to reach many campers from a non-church background. Many campers that come to our camps have never heard the gospel.
Native speakers take a huge part in making our camps truly "English". So, the fact that you don't speak German is exactly what we are looking for!
Travel
You will arrive and depart from Berlin-Brandenburg International Airport (BER). We will pick you up and drop you off there. Arrival: anytime on the Friday/Saturday before camp starts; departure: anytime on the Sunday after camp ends.
Housing
Free housing! You will stay at our WOL property and share your dorm with other staff members. Towels and beddings provided. Also included: free Wi-fi, free access to washer and dryer. We also take you on a sightseeing trip to Berlin on a weekend.
Transportation
Throughout the week we drive you to the places you need to go.
Food
You will eat with our campers and other staff. Our kitchen will serve three meals per day:
Breakfast: cereals, bread, cold cuts, jam, fruits, etc.
Lunch: warm dish, salad, dessert
Supper: bread, cold cuts, vegetables
A vegetarian alternative is always provided. For any food intolerances, please contact us before arrival.
Visa
If you are from the US: Tourist visa – won't cost you anything (you just need a passport).
Other countries: please check if you need a Schengen-Visa (cost ~80€).
What to Bring
You might want to bring clothes for hot and rainy days (the average summer temperature here is 68°F), a swimsuit and maybe swimming shoes (we have a lake in front of our door), a pair of solid shoes, a European plug adapter (Type C and F are used in Germany), and personal allowance (for sightseeing, shopping, snacks etc.).
No worries if you forget anything – we either have what you forgot on property, or we can take you to a store.
Dress Code
Casual. Sunday dress is relaxed (dress pants, jackets, or dresses are not at all expected but are also fine).
Qualifications
College Age/ Young Adult (about 18 - 30)

Love Jesus. Love teenagers.
Financial Information
Airfare + Emergency Insurance + Admin Fee
(If you would like to, you can make a donation to help cover the cost of your stay - but it is not required)
Contact Information
Lisa Franz lf@wdl-koeris.de 0049 178 163 168 5 https://wdl-koeris.de/volunteers
Other Information
You can either help for one week, two weeks, or all the weeks!
7/29/2023 - 8/06/2023
8/05/2023 - 8/13/2023
8/12/2023 - 8/20/2023
We will send you further information upon your acceptance!