---
Not only will you help change someone's earthly life – you'll impact their eternal life. By being involved in missions, you can take part in God's plan to reach the nations.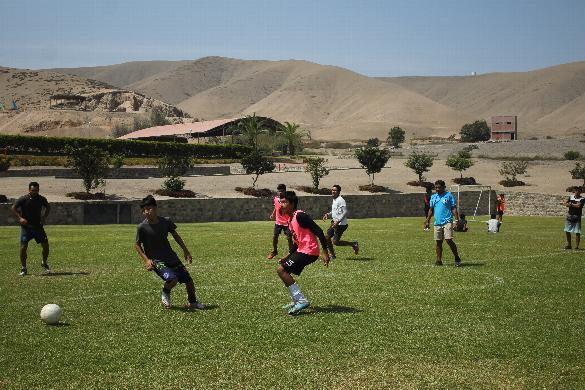 Peru 2023 Apr 6-16 Staff Housing
Work Trip Adventures trip in: Peru
Dates: 04/06/2023 - 04/16/2023
Cost: $763.84
Ministry Description
Summary
WOL Peru has expanded the camp to include a new 500 seat auditorium and now need more staff housing. The property, once a chicken farm, has been developed into a paradise for teens to "get away" and have the time of their lives while hearing the gospel of God's loving care for them. There are several other projects as well such as landscaping, painting, electrical, etc. The new auditorium was dedicated in July 2016 and our work teams were involved in the design and interior construction of this project. You can join us on these adventures so contact us today!
Strategy
You'll meet and work with the most wonderful WOL staff. You'll work on a beautiful camp property that has reached 1,000's of youth with the gospel, fellowship with national believers, briefly tour the capital city of Lima and experience the beauty of the desert lands of the coastal south. It never rains in this part of the world yet the bare natural dust covered mountains have an amazing beauty all their own. You'll take part in open air evangelism in one of the local towns, experience the open market of artisan shopping and we try and always eat at one of the finest seafood restaurants in the world. You'll meet the students in the Discipleship Training Center and hear the testimonies of the staff. The trip will impact your heart so be ready for what the Lord wants to do in your life.
Travel
Most flights to Peru are day time flights arriving into Lima late Friday evening around 10:00 pm to midnight. Some flights arrive in the morning around 6:00 am. In this case we'll head right to the camp after lunch this day.

If arriving Thursday evening you'll spend the first night in Lima at a hotel. If arriving on Friday morning the day will start early. Both schedules will work fine and will start with a good breakfast at a famous bakery (it has Really GOOD pastries), then tour Lima, do some shopping, have lunch and then head to the camp property after lunch arriving around 5:00 at the camp.

Departure flights are night flights and arrive back to the USA connection on Sunday morning. So the best return flights are scheduled to leave Lima Saturday night around midnight or early Sunday morning. By leaving Peru around midnight we miss driving in the late evening traffic of Lima. So when arranging your return flight make sure you are arriving in the US on Sunday morning leaving Peru either late Saturday night or early AM hours of Sunday morning.
Housing
Housing is in cabins and there are a few apartments for couples if available. All accommodations are nice and you will be well cared for. You'll need twin bed sheets, a light blanket and travel pillow. It is warm this time of year with lots of sunshine! Best to take along a large brimmed hat for shade.
Transportation
You'll be picked up at the airport by the WOL staff so the size of the group will determine the kind of transportation used. Roads are very nice and travel to the camp takes about 2.5 hours over a scenic 4 lane coastal highway.
Food
During our stay in Lima, you'll eat local area foods like some of the best rotisserie chicken in the world, fries, roast pork sandwiches, an assortment of fish and seafood at a world first class seafood restaurant, fresh fruit juices, amazing desserts and so much more. During our work days at the camp our meals are prepared by the WOL staff and are awesomely good! Fellowship around the tables is wonderful and so much fun. If you are thinking of losing weight on this trip... I don't think it will happen!
Visa
No prior visa is required to enter the country. We'll let you know of travel restrictions as they come up.
What to Bring
Take along single bed sheets, towels, personal items and a light blanket. A better list will be sent later and could change depending on the size of the group. The camp has a need for tools and equipment which the team can help supply. A list of these needs will be sent closer to the trip dates however any types of hand tools are always welcomed. You might consider taking along shoes and clothing items to pass along to the discipleship center students. This makes a great Sunday School project for your church and gets more people involved in missions! Take advantage of your allowed luggage space and take all you can to give away.
Dress Code
The climate is prefect! 60 to 80 every day with cool mornings and warm afternoons. It is cool in the morning hours so you might need a long sleeve shirt, jacket or sweatshirt to wear for the first few hours. Work can be done in shorts and T-shirts. The gals may feel cooler in a light dress but shorts or jeans are fine. Sunday church is business casual dress and attended in a small town close to the camp or at the camp.

You do need to be aware of this! There are small biting gnats at the camp property and worse in the mornings. They hover at ground level in the grass areas so long pants will be better to keep them off your legs. Bug spray will help. But don't worry, you can't feel them bit and the bits only itch for about 3 weeks! These little creatures are also in Costa Rica and NY!
Qualifications
This trip needs all levels of talent and has a place for everyone to work. It is a great trip to take your family.
Financial Information
Trip cost covers food, lodging, in-country transportation, background check, travel insurance, $125 work funds and $100 host cost per trip. Price doesn't cover international airfare.
Contact Information
Ron Morton RonMorton@wol.org 419-569-1226 www.RonMorton.wol.org
Other Information
There is so much that can be done at the camp and all skills and talents are needed. This is a great place to take the entire family or church group. Work trips are great opportunities for grandparents to introduce their grandchildren to missions.