---
Not only will you help change someone's earthly life – you'll impact their eternal life. By being involved in missions, you can take part in God's plan to reach the nations.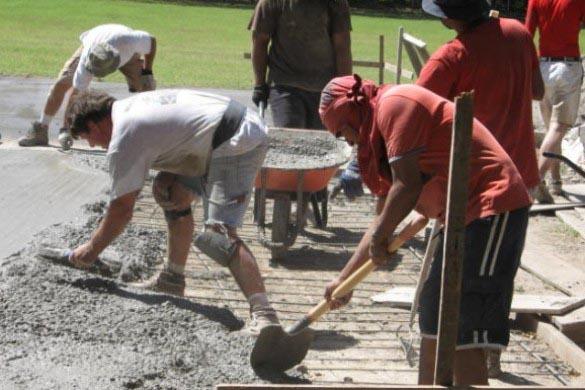 El Salvador 2023 Feb 9-18 Camper Dorms
Work Trip Adventures trip in: El Salvador
Dates: 02/09/2023 - 02/18/2023
Cost: $601.58
Ministry Description
Summary
The camp property is used for summer camps and by public schools for activities and retreats. The youth come, have fun and hear the gospel. This is what changes lives! WOL El Salvador is reaching 1,000's of youth per year and continue to improve the property to better serve the needs.
Strategy
Summer staff housing is needed for leaders who attend camp to help for the camping season. The dorms are filled with campers but they are out of room for more guests. This new building is so very important to the expansion of the ministry. You will experience a day of evangelism in a local town, visit the coastal fish market and the capital San Salvador.
Travel
You'll fly into San Salvador International Airport which is just 15 minutes from the WOL camp property. The trip takes about 3.5 hours from Houston or Dallas.
Housing
Housing is very nice with all ceramic tiles floors and bathrooms.
Transportation
The airport is along the coast and the roads to the camp are in excellent condition and flat. It's about a 15 minute bus ride to the camp. San Salvador is about 45 minutes away.
Food
The staff prepare the meals and you'll eat really well. You'll enjoy the national foods and special cookout that Marcelo prepares just for you. You'll love his Chimichurri! You're not sure what this is? Join the trip for a taste of Argentine flavor.
Visa
No visa is required before leaving the USA but there is an entry visa given at the airport at a cost of around $15.00
What to Bring
A list of things will be sent to you when you sign up for the trip.
Dress Code
It is hot at the camp, mid 80's to 90's. You can work in shorts or long pants. Church is business casual. More details will be sent later.
Qualifications
These projects are designed for everyone to attend. A love for the Lord to serve and a willingness to be blessed. If you can do these things, you qualify!
Financial Information
Trip cost covers: food, lodging, transportation, background check and travel insurance plus
$125 work funds, $60 host cost,
Are you ready to attend this adventure? Trip payments are paid to this account:
https://give.wol.org/003J7C
This link will take you direct to the project funds
International Work Team Proj Fund #003J7C

Contact Information
Terry Wisser TerryWisser@wol.org 518-788-7763 https://www.facebook.com/palabradevidaelsalvador/
Other Information
There is so much that can be done at the camp and all skills and talents are needed. There is room for the entire family to go along. Work trips are great opportunities for grandparents to introduce their grand children to missions.
Projects and funds needed include:
1- Finish the 5 family pavilions (roofs, light, columns tile covers) $4.000
2- Finish the Big Principal activities Control Pavilion (roof, door, floor tile) $3.000
3- To build the changing room building for Men and Women (2 sinks, 2 toilets, 3 showers and changing area) $12.000
4- To buy supplies like chairs, tables, etc. $2.000