---
Our missionaries are normal people from all walks of life who have dedicated their lives to serving and following Jesus wherever He calls them. Want to meet them? Check out our Missionary Directory.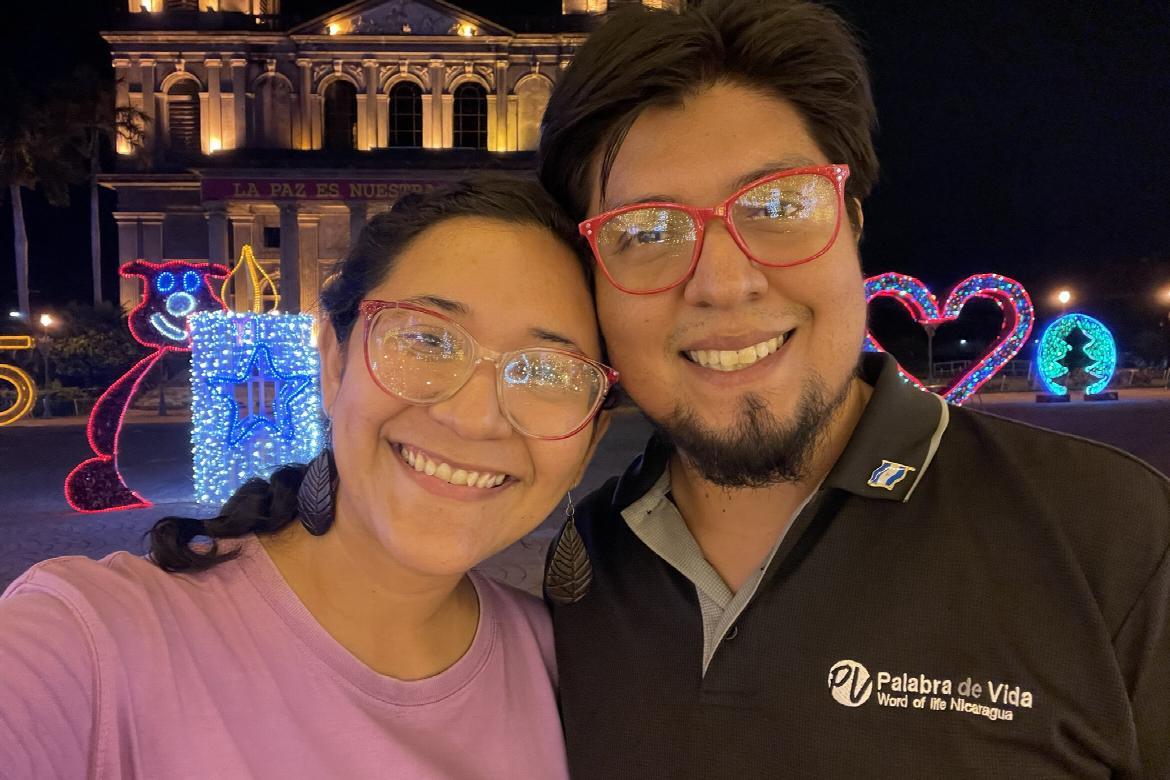 Adolfo and Gabriela Campos Noguera
Missionaries to Nicaragua
Ministry Description
We are privileged to share the gospel, disciple youth, and train leaders in God's work. We are youth ministry leaders in our church and serve full time as missionaries in Word of life ministry.
Adolfo: I have the opportunity to serve in the multimedia area. All that is design and advertising, video production, network administration and creation of useful resources in WOL ministry.
Gaby: I have the opportunity to serve in the MIL area (Ministry for the local church), where we can create direct relationships with the churches, in this way we can influence and train young people with the different programs that WOL offers.
Thanks to this ministry we can be part of retreats with schools, camps, youth retreats, and tours in the different departments of our country with the main objective of reaching children and youth with the gospel of Jesus Christ.
About Adolfo
Hi friends. My name is Adolfo. Before I knew Christ, I had a common life, with my parents separated. At the end of my high school, I started having the need to visit a church, so my cousin invited me to his church. In the month of February In a discipleship meeting with my cousin, this day I accepted Christ as my Savior. I was nineteen years old and I began to grow through discipleship in my personal relationship with God. Since 2016, I am on staff with Word of Life as a part-time collaborator. Now in serving as missionary (full time) in the ministry, I am in the area of evangelism, holding workshops in churches and retreats with schools. I'm also in charge of the Multimedia and social networks area.
About Gabriela
Hey, friends. I am Gaby and I am grateful to God for having me in the ministry. I received forgiveness for my sins at the age of 13 and from that moment I had a new beginning. I thank God for the great family in the faith, friends, and ministry partners that God has given me. I congregate in a church called Encounter with Christ which with God's help has helped me grow and I have been able to serve him. From September 2020 – April 2021 God gave me the opportunity to study his word at the Word of Life bible Institute in Mexico with the online modality, because I longed to know my God more through his word and to train me to better serve him in ministry. Today I am part with my husband of the PV Nicaragua team, and it is our desire to be able to bring the gospel to people, make disciples, and train church leaders for God's work in our country.
Life Verse
For of him, and through him, and to him, are all things: to whom be glory for ever. Amen. Romans 11:36