---
Our missionaries are normal people from all walks of life who have dedicated their lives to serving and following Jesus wherever He calls them. Want to meet them? Check out our Missionary Directory.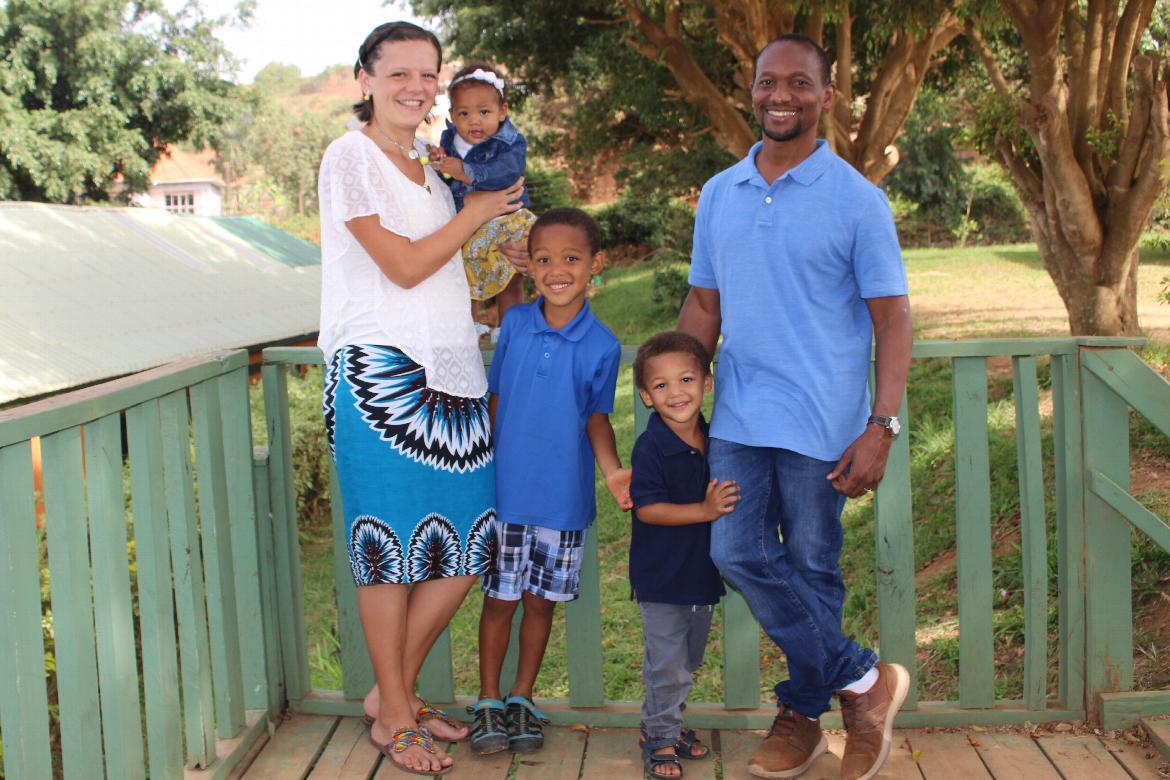 David and Amanda Kirabira
Missionaries to Uganda
Ministry Description
David is the Field Director of Word of Life in Uganda and is variously involved with the evangelistic events and discipleship programs at WOL- Uganda.
Amanda currently is involved in nurturing our 2 sons (Daudi and Luke) and as well as helping out with discipleship for the Bible Institute ladies and teaching at the K-12 Christian School.
About David
I was born in Uganda as the last of eight children and grew up in Kenya, where I lived with my mom. I trusted in Christ for my salvation at the age of fourteen, during a class fellowship after a gentleman from Word of Life Mombasa (Kenya) shared the Gospel.
After high school I did training in Child Evangelism, which helped me teach Sunday School at my church and as a camp counselor at the Word of Life camps. In 1995, while serving with Word of Life Mombasa as part of the Camping and High School Ministry team, I had it settled in my heart that the Lord was calling me into mission work to the youth. My passion for ministry was further enhanced by my attendance at the Word of Life Bible Institute in Schroon Lake, NY where the Lord, through His Word, further equipped me to be a vessel for His call in my life.
In 2003, the ministry of Word of Life came to start a permanent work in the beautiful country of Uganda, "The Pearl of Africa." It has been an honor to be a part of what the Lord is doing in Uganda and witness the tremendous spiritual growth in the youth and the work here. Amanda and I have had the privilege of being involved in the Camping, Clubs and Bible Institute ministries and look forward to what He has in store as He enables us to impact the next generation.
About Amanda
I grew up in a Christian home as the oldest of 3 children, I got saved at a very young age. I came out screaming "Mom, Dad, I got saved, I got saved!!" In my 10th grade year of High School, I worked at Sacandaga Bible Conference. That year a worship pastor was there and led the leadership team meetings. During those meetings the focus was on having a real relationship with the Lord. Up until that point in my life I was living life conforming to those around me - at church I would do all I could to follow what I believe they wanted me to do, at school I acted like those around me did, etc. That year I dedicated my life to following His leading in my life and to have a relationship with Him.
Isaiah 53 would be the verses that I place my conversion on. The picture of the perfect lamb dying for my sins and taking my pain brings me continually to awe!
Little did I know that dedicating my life would mean a change in my plan for life from being a teacher in America to God's plan of being a missionary in Africa. After graduating from Word of Life I transferred to Liberty University to complete my Elementary and Special Education degree. During those years at Liberty, I found a passion for ministry in Africa.
After graduating Liberty, the Lord opened a door for me to work with Good Shepherds Fold Orphanage in Uganda, teaching the missionary children. This opened up an opportunity to serve alongside the ministry team of Word of Life Uganda.
Life Verse
Joshua 1:9 Have I not commanded you? Be strong and of good courage; do not be afraid, nor be dismayed, for the Lord your God is with you wherever you go.