---
Our missionaries are normal people from all walks of life who have dedicated their lives to serving and following Jesus wherever He calls them. Want to meet them? Check out our Missionary Directory.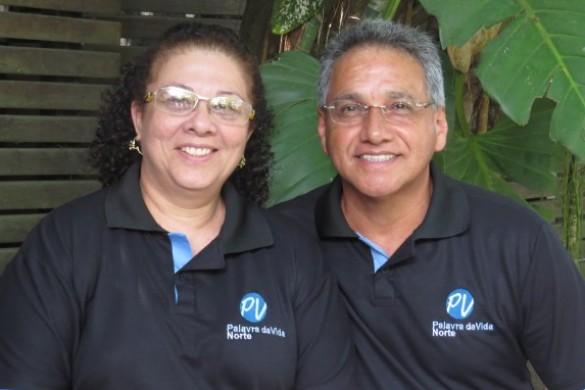 Fernando and Lia Davila Cuadros
Missionaries to Brazil North Belem
Ministry Description
Since January 2011 we have served the Lord together with Word of Life in Benevides - Para.
Lia works with Bible Studies with the students in the classes of Kindergarten and Primary 1 from 1st to 5th and Primary 2 which is 6th and 7th year.
I am currently responsible for staff working in the areas of construction, maintenance, gardening and security. Every day they are discipled by reading the bible. I also have the responsibility for individual counseling for small groups of students who are studying at the seminary during the year.
Desde Janeiro de 2011 servimos ao Senhor juntamente com a Organização Palavra da Vida em Benevides – Pará.
Lia está trabalhando na área de Ensino Bíblico no Colégio Palavra da Vida com as turmas de Educação Infantil e Fundamental 1 do 1º ao 5º e Fundamental 2 com 6º e 7º ano.
Atualmente sou responsável pelos funcionários que trabalham nas áreas de construção, manutenção,jardinagem e segurança. Todos os dias eles são discipulados com a leitura da bíblia.Também temos a responsabilidade na área de aconselhamento individual ou em pequenos grupos de alunos que estão estudando no seminário durante o ano.
About Fernando
I am Peruvian, but lived many years in La Paz Bolivia, where I met Christ through some brothers who invited me to church on Sunday. After hearing the Word of God and studying the Bible daily, I was transformed as I learned the Word of God.
Eu Fernando, peruano, mas vivi muitos anos em La Paz Bolívia, onde conheci a Cristo através de alguns irmãos que me convidavam para ir ao culto no domingo e assim o Senhor me alcançou ao ouvir a Palavra de Deus e passei a estudar a Bíblia diariamente e fui sendo transformado à medida que aprendia a Palavra de Deus.
About Lia
I came from an evangelical family, but one day I had an encounter with Christ at a retreat in 1980 by the Presbyterian Church. I was 15 at that time. Since that day Christ became a real part of my life, guiding me as I read the bible I helping me to understand better. God answered my prayers and my life is now full of joy that I had not have before. The Lord God has sustained me every year for me to learn more and to make Him be known.
Eu Lia, venho de uma família evangélica, mas um dia tive um encontro com Cristo em um retiro da Igreja Presbiteriana no ano 1980, quando tinha 15 anos. Desde este dia Cristo se tornou uma realidade em minha vida, a leitura da bíblia eu pude entender melhor, minhas orações Deus respondia e minha vida passou a ter uma alegria que antes eu não tinha. O Senhor Deus tem me sustentado a cada ano para que eu o conheça mais e mais e faça-o ser conhecido.