---
Our missionaries are normal people from all walks of life who have dedicated their lives to serving and following Jesus wherever He calls them. Want to meet them? Check out our Missionary Directory.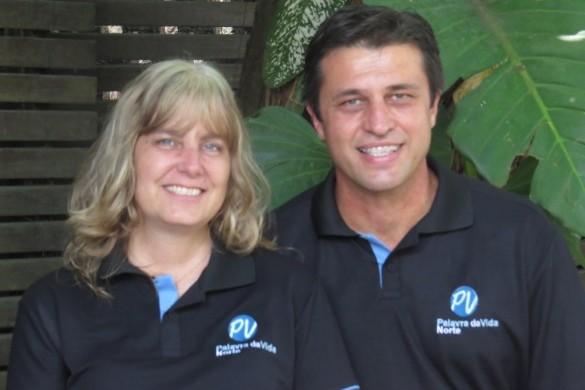 Gary and Sandy Parker
Missionaries to Brazil North Belem
Ministry Description
The focus of our ministry has been to reach the "river people" who live along the Amazon River. There are over 33,000 communities without access to the Gospel. Our strategy is to evangelize and disciple the youth from the urban centers of Brazil, then train them to become pioneering missionaries in our four-year missionary training institute, and then help coordinate our graduates, in conjunction with their home churches, as they plant new churches in the river communities. We reach about 10,000 young people each year with our camps, public school, Christian school and Bible clubs ministries. We have 85 full-time students in our institute. We also train about 200 leaders in our weekend leadership training classes. Our missionaries are currently planting churches in about 100 different communities through the boat ministry.
About Gary
I was born in Brazil, the child of missionaries with Wycliffe Bible Translators. It was while I was in Brazil as a child that I trusted Christ. When I was nine year old my parents moved to northern Wisconsin, where I was raised on a dairy farm through high school. While in Wisconsin my parents were founding members of the Northland Bible Church. I received a Bachelor of Arts degree in Pastoral Studies from Calvary Bible College in 1987. I completed a Master's degree in Biblical counseling from The Master's College in 2010.
In June of 1989 we were accepted as missionary candidates with Word of Life, for the field of Belem, Brazil we arrived on the field in July of 1991. I became field director in 1994 and continue to serve in that position to date.
About Sandy
Sandy (Shipe), was born and raised in Salina Kansas, the daughter of Ralph and Verna Shipe. Sandy was saved during a VBS meeting at Salina Bible Church where her family has attended since its very early days. Sandy graduated from Calvary Bible College with an Associate of Arts Degree in 1985. We were married in December of 1986. God has blessed us with three beautiful children who are all walking with the Lord and desire to serve the Lord.
Life Verse
1 Corinthians 4:1-2 Let a man so consider us, as servants of Christ and stewards of the mysteries of God. Moreover it is required in stewards that one be found faithful.