---
Our missionaries are normal people from all walks of life who have dedicated their lives to serving and following Jesus wherever He calls them. Want to meet them? Check out our Missionary Directory.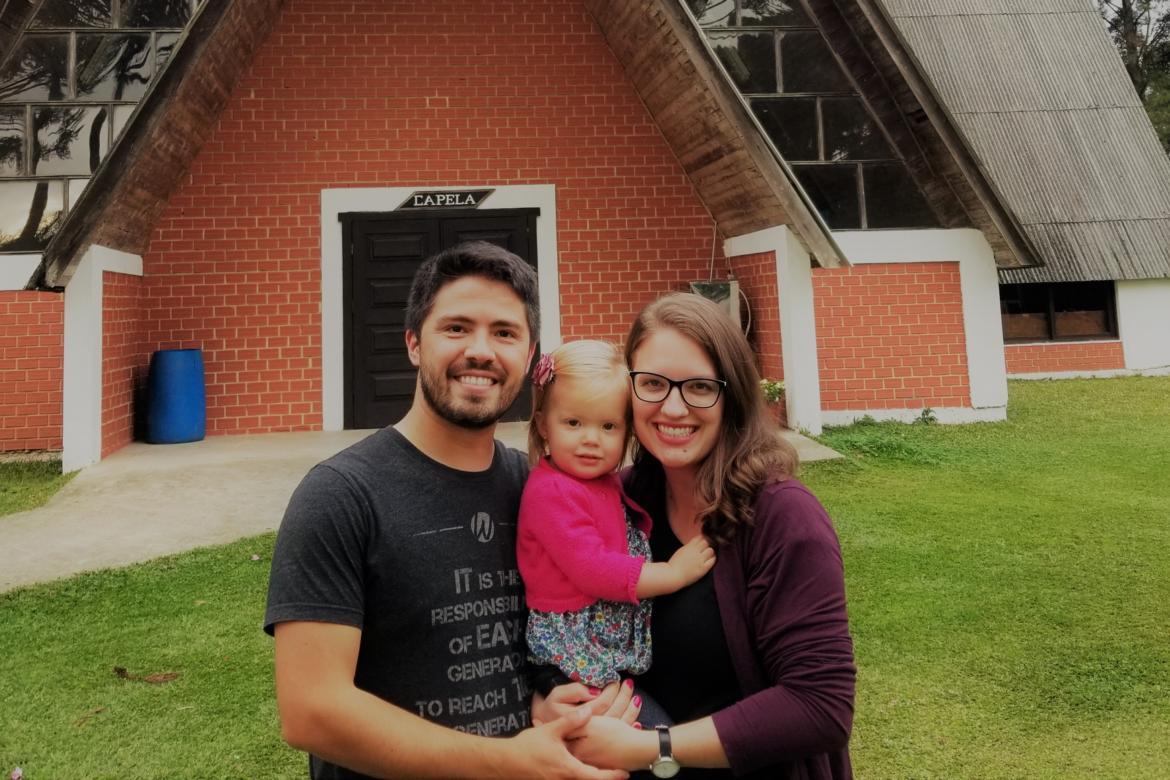 Thiago and Erica Melgarejo
Missionaries to Brazil South Curitiba
Ministry Description
God has given us a burden to reach the people of Brazil with the message that Jesus Christ died for our sins and rose from the dead. Since 1984, God has opened the doors for the EMME ministry to travel across the county sharing the Gospel message wherever they have the opportunity. We are honored to be a part of this team and to join them in preaching the Gospel and discipling students to go and do the same. Our goal is to partner with the church and to train young people to fulfill the Great Commission.
EMME stands for "Escola de Ministério de Música e Evangelismo" (school of ministry of music and evangelism). The ministry base is located in Lapa, Paraná in Southern Brazil. In the beginning of each year, we receive 20-30 single college aged students who are dedicated to investing a year of their lives to sharing the Gospel, using their talents in music and drama as a tool. The first six weeks are a time of intense rehearsals where we will be training the students in singing and theater. They also have Bible classes and training in personal evangelism during this time. After these six weeks, we have two musicals ready, as well as children's plays and skits. We then spend the next 9 months traveling from city to city across Brazil, partnering with the local churches in each city. We spend two days at each church. During the day we go to schools, hospitals, prisons, parks, anywhere the leaders of the churches can get us into, and share the Gospel using music and drama as our main tool. Brazil is still very open to the Gospel, and we want to be faithful in taking full advantage of this while we still can! We also use our time during the days to invite people in the city to attend the hour long musical production that is presented every night. Each year we present 2 different musicals; one is always about the life of Christ and His death, burial and resurrection, and the other is to encourage and challenge the church with topics such as, missions, the Christian family, etc. After each presentation, the gospel is clearly presented and an invitation is given for those who made a decision to trust in Christ to come forward and talk personally with one of our students. We then are able to pray with them and get their contact information which we later pass on to the pastor of the church that is hosting the group for follow up and discipleship.
Year after year we are blessed to see the power of the Gospel changing thousands of lives across Brazil. And if something could be more exciting than that, we also get the privilege of discipling our students during a whole year as we minister and serve alongside them. Our goal is to help them understand that they were made to serve and worship God with their gifts and talents wherever they are. By the end of the year we want them to be spiritually stronger and prepared with many tools to then go back to their cities and make disciples all over Brazil and to the ends of the Earth!
About Thiago
I grew up in a non-practicing Catholic home and always had an idea of who God is. When I was 14, my dad got sick and my family and I went through a lot of financial and familiar struggles. These hard times made me realized that I did not know God at all. Through a friend's invitation, I went to his Church, where the Gospel was being preached and I realized that I was a sinner separated from God and made the decision to trust Christ as my personal Savior. Since that day I have experienced a personal relationship with God, that has shaped every step of my life.
In my last years of college, I was impacted by the text found in Matthew 6:19-24 where I understood that, instead of pursuing a carrier as a prosecutor and "making good money to live comfortably", God was calling me to invest my time, gifts and talents to work full-time in His ministry of preaching the Gospel and Expanding his Kingdom. As I was praying to God for direction, WOL came to my church with the EMME ministry and I found in this ministry an opportunity to use my talents in drama, music and in communication to spread God's Word and be an instrument for His glory.
During my years of EMME I was profoundly impacted by the ministry. Also through discipleship I could better understand God's calling for my life. I believe using your skills to make disciples is God's calling for each one of us and working with EMME will allow me to use my skills in drama and music and my gifts in administration and service to make disciples who make disciples for the glory of God. This ministry deeply impacted my life and I believe that EMME is a tool God wants to use to impact other people's lives as well.
About Erica
By the Grace of God, I was born into a family that loves the Lord and raised me according to the principles of His Word. At the age of five, I understood that I was a sinner and that Jesus died and rose from the dead to pay the punishment for my sins. With my mom, I prayed and told God that I believed and accepted Jesus Christ to be my Savior. Since that day, I have been through many ups and downs that have deepened my personal relationship with Christ and taught me to rely on His strength to follow His will for my life. At the age of 15, I moved to Brazil with my family where I had the opportunity to be involved in Word of Life camps and traveling with the EMME group, sharing the Gospel through music and drama. These experiences broadened my view of the world and taught me to love people and see them more like Christ does. When I was 19 I studied for a year at the Word of Life Bible Institute where during a Missions Conference I understood God calling me to invest my life in making disciples and I made a commitment to God to serve Him full-time. At that time of my life I was at such a crucial age and I am so thankful for godly professors and leaders who taught me to love God's Word and study it deeper and helped me to grow spiritually. God has given me a desire to invest my life in discipling young people, as I was once discipled, and teaching them to love and live by God's Word.
Life Verse
And he hath put a new song in my mouth, even praise unto our God: many shall see it, and fear, and shall trust in the Lord. Psalm 40:3